DeCoDe participates in Globally We Design (GloWD) 2022 Edition
Thu 15 Dec 2022 Matthew Kwame Eshun, GloWD, KNUST Chapter
The Globally We Design (GloWD) Edition '22 begun with a virtual orientation of participating students from ten (10) universities globally including the Kwame Nkrumah University of Science and Technology (Ghana) on Thursday October 27, 2022. It was a 5-week virtual-based studio for student collaboration aimed at leveraging genius loci as a foundation for building design-inclined solutions to some of the topical issues confronting the world. GloWD is a design catalyst and a leading global initiative for design leadership founded on research, education, and performance. It is a platform for re-energizing and enhancing connections, procedures, and the created product by placing a premium on human interaction, cooperation, and communication.
Genius Loci is critical area to be considered for handling human-centered design problems. It plays a significant role in how people interact with their environment and the spirit that backs this interaction. Genius loci is believed to be the prevailing spirit, character or atmosphere of a place since it was promulgated. In one of his lines in Epistle IV, to Richard Boyle, Earl of Burlington, Alexander Pope cautions him to 'consult the genius of the place in all'. The principal objective of GloWD 2022 GEL Lab Design Studio was to capitalize on this principle to solve any pressing global issue identified by the various GEL-Lab teams.
The KNUST Chapter of GloWD 22 was led by Dr. Ralitsa Diana Debrah. Ralitsa is a designer and educator with over a decade experience of consulting both locally and internationally. She is a lecturer at the Kwame Nkrumah University of Science and Technology (KNUST), Ghana and currently serve in a number of design organizations both in Africa and abroad. She is a lifelong learner and a futurist. Her basic overarching principle of life centres on the fact that she does nothing for herself, but for the betterment of others. She deserves her flowers because her supervisory role and leadership effect was felt at every phase of the GloWD project.
KNUST representing students were in the persons of Samuel Essel Acquah, Benjamin Ebo Amissah, Edgar Baidoo, Andrea Danquah, Matthew Kwame Eshun, Bernice Dodoo, Stephen Asante Gyan, Hannah Kwafo, Nii Akuete Lomotey, Nii Oko Lomotey who contributed immensely to hoist the banner of the premier university. Each of these students was added to a Global Experimental Live-Lab (GEL-Lab) comprising ten students from different design disciplines to form a team of creative problem solvers for the main agenda of GloWD 22.
The teams worked on amazing projects including the Bridge Project which focused on instilling genius loci in the relationship between people and spaces in a universal way. Others worked on creating a genius loci-inclined studio space to improve studio pedagogy in design institutions globally. The Villa Park among several other mind-blowing projects also pivoted their design thinking on environmental sustainability, safety and the essence of creating a space for co-living.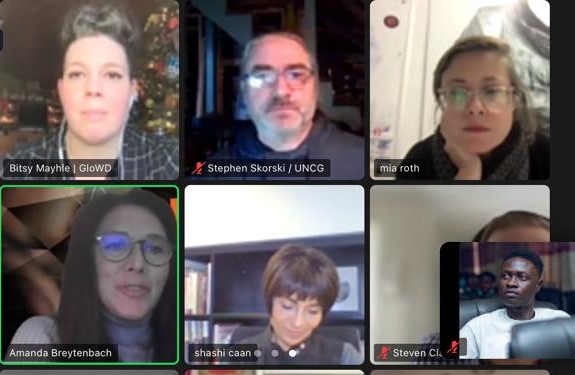 The 2022 GEL-Lab Design Studio was orchestrated to bring out the creative abilities of these students and push them outside of their comfort zones to work in a quite unfamiliar yet practically adaptable environment and collaborative platform for problem solving. There is a disparity between having a real-time visual experience and collaborative discourse over a virtual space. Students were introduced to a multinational platform where the issues of difference in time zones, language barriers and varying culture affects students understanding of problems and ways of infusing meaning into things. Regardless the challenges thereof, students learned a new way of having an effective interaction in an interdisciplinary team to achieve a common goal.
The advent of modern technology afforded the teams a ton of possibilities for a great online collaborative experience. The teams used platforms like Miro, Figma, Jam board etc for visualising ideas. Messaging apps like WhatsApp, Google Meet and Zoom were patronized for team discussions while cloud storage platforms like Google drive, Dropbox served as a vault for team assets and for sharing files among individual members to expedite team progress in their project delivery. The contribution of these platforms was immense since it had a direct impact on collaboration, communication, creativity and critical thinking.
As part of measures to track student participation, a meticulously crafted weekly self-reflection journal was incorporated into the GEL-Lab Design Studio. According to the GloWD leadership, the self-reflection was intended to aid students become more aware of their strengths, harness them through collaborative thinking with their team members, push individual and team creativity and promote cultural communication for the collective success of the team. Additionally, it offered the GloWD leadership an opportunity to take a cursory look at the progress of the various team projects and picture the outcome even before the final presentation.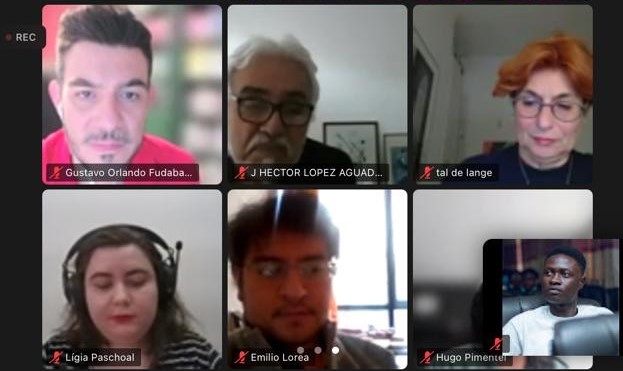 The final presentation was slated for December 12, 2022 via zoom at 5pm GMT. Prior to the D-day, all teams had submitted their 8-minute full team final presentations, 90-second executive summary videos, team portfolios and individual studio deliverable per submission requirements. It was required of each team to designate a member to respond to questions from a review jury. The jury comprises mixture of GloWD leadership, GloWD global network as well as members from other GEL-Lab sections. These are academicians and design enthusiasts with diverse knowledge in design related disciplines, and terrific experience in design research for effecting global change.
At 5pm GMT, presentation started as scheduled. The review jury passed their remarks at the end of each presentation and gave the various team representatives the platform to elaborate concepts and provide theoretical grounds to their creative solutions to the problems they identified. Where necessary, they responded to questions from the jury on behalf of their respective teams.
On 5th December, 2022, all participants were issued a certificate for the successful completion of the GEL-Lab Design Studio. It is incredible how the GEL-Lab has afforded participants the opportunity to build a long-lasting network. There is one important element of the GEL-Lab Design Studio without which this report will be incomplete. It was designed to promote the student designer's growth and transform them into individuals whose product of creative reasoning can effectively respond to global issues.