Design student among top 50 shortlisted for $100,000 Chegg.org Global Student Prize
Mon 1 Aug 2022 Mathias Charles Yabe-DeCoDe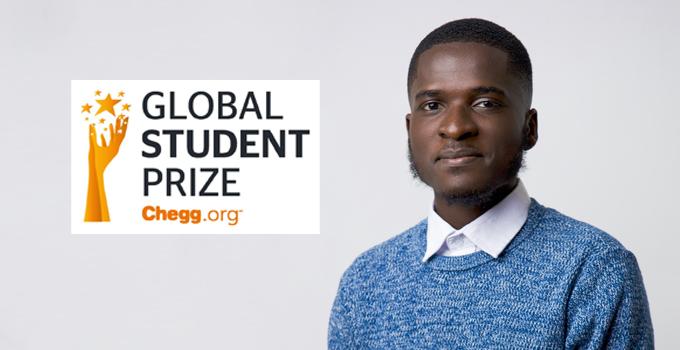 Our 4th year student, Mathias Charles Yabe has been selected as a top 50 finalist for the 2022 Global Student Prize. Mathias was selected from almost 7,000 nominations and applications from 150 countries.
The Chegg.org Global Student Prize 2022 is an annual $100,000 award to be given to one exceptional student that has made a real impact on learning, the lives of their peers and on society beyond.
The Varkey Foundation partnered with Chegg.org to launch the annual Global Student Prize last year, a sister award to its $1 million Global Teacher Prize. It was established to create a powerful new platform that shines a light on the efforts of extraordinary students everywhere who, together, are reshaping our world for the better. The prize is open to all students who are at least 16 years old and enrolled in an academic institution or training and skills program. Part-time students as well as students enrolled in online courses are also eligible for the prize.
Sunny Varkey, founder of the Varkey Foundation, said:
"I extend my warmest congratulations to this year's finalists. Their stories are a testament to the crucial role that education plays in building a better tomorrow for us all. It is the key to solving humanity's greatest challenges, from war and conflict to climate change to growing inequality. As time runs out to achieve the Sustainable Development Goals, it is more important than ever to prioritize education so we can face the future with confidence."

Mathias was shortlisted for making a real impact on learning, the lives of his peers and on society. During the pandemic, Mathias pioneered the development of a disability friendly virtual learning platform for hearing impaired students to study during school closures, directly impacting the lives of 250 deaf high school students in Ghana.
In creating community impact and strengthening food systems in local communities, Mathias launched AkoFresh to reduce post-harvest losses. Mathias's innovation is a mobile solar powered cold storage preservation technology that extends the shelf life of perishable crops from five days to 21 days, therefore reduce losses by 50%. The solution is reducing post-harvest losses, alleviating poverty, and improving nutrition.
The top 10 finalists of the Global Student Prize are expected to be announced in late August this year. The winner, who will be announced later in the year, will be chosen from the top 10 finalists by the Global Student Prize Academy, made up of prominent individuals.
All the best Matthias!