KNUST emerge as Winner of the Pakacging Research and Innovation Challenge - 4th Edition
Thu 13 Apr 2023 Humility Daniella Nyame and Christian Addo Sarfo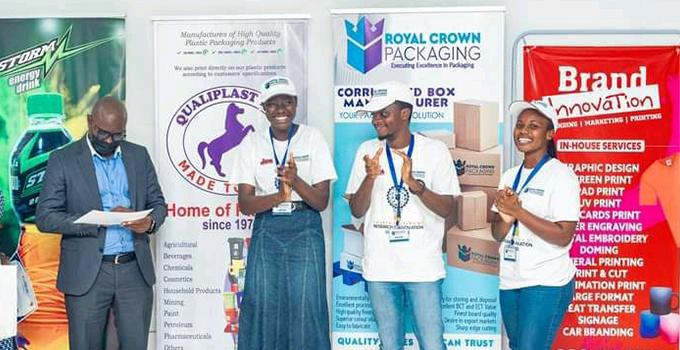 Royal Crown Packaging Limited's (RCPL) Annual Students Research and Innovation Challenge for tertiary institutions concluded its fourth edition from 20th June to 4th July 2022.
The programme was facilitated by the Institute of Packaging, Ghana (IoPG), partnered by Qualiplast Ghana Limited and Kasapreko Company Limited, with sponsors of the 2022 challenge including Access Bank Ghana, Rockz Waakye and Brand Innovation.
The annual challenge started with a focus on research and innovation ideas within RCPL, aimed at identifying and addressing operational challenges and bottlenecks in the manufacture of corrugated boxes as well as exposing tertiary students to RCPL manufacturing processes whilst creating interest in the field of packaging among university students.
This 4th edition took an international turn with the main facilitators of the annual program, IOPG partnering World Packaging Organization (WPO) to create an avenue for the researched topics from the four Universities to be entered into the 2022 WPO World Star Student competition. This was aimed at putting not just the students and their schools on the Global packaging front, but also the country.
Three students each from four (4) Universities; Kwame Nkrumah University of Science and Technology, University of Ghana, Ashesi University and Academic City College participated in the competition. Humility Daniella Nyame, Christian Addo Sarfo from the Department of Communication Design and Samuella Obuama Aggrey from the Packaging Technology Department represented KNUST in the competition.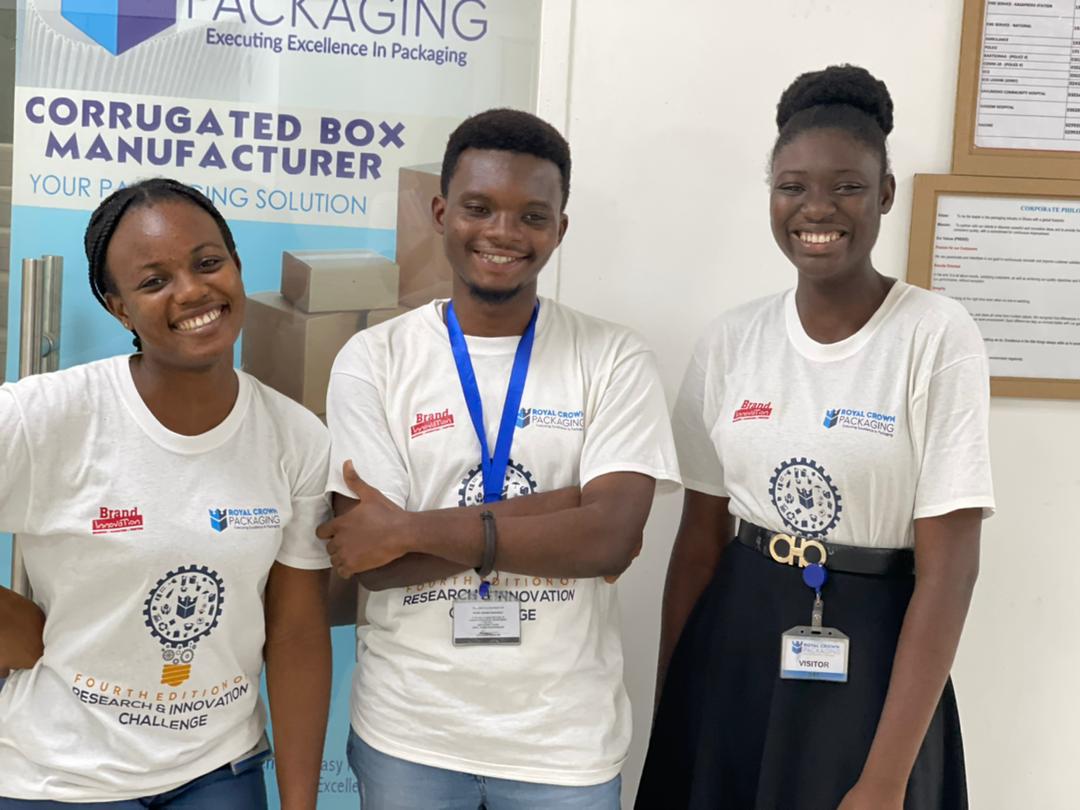 The 12 participating students had the opportunity to tour major factories in Ghana, which included Kasapreko Company Limited, Qualiplast Ghana Limited, and Royal Crown Packaging Limited, to gain a practical experience on how to approach their project.
The event showcased four topics, each tackled by students from different universities. The students were tasked with developing proposals and designs for effective packaging solutions that could help Ghana address its packaging challenges. The chosen topics were:
Post-consumer plastic packaging waste

Minimizing post-harvest loss of fresh fruit and vegetables

Improving local packaging to achieve export competitiveness

Effective recycling of waste paper for value creation
The KNUST team came up with a sustainable packaging design aimed at reducing post-harvest loss in tomatoes. Fruits and vegetables, including tomatoes, are particularly susceptible to post-harvest loss due to their perishable nature. The use of locally made wooden crates for the transportation and storage of tomatoes had been identified as a major contributing factor to the estimated 20-50% post-harvest loss of tomatoes at the pre-consumer level in Ghana.
To address this issue, the team conducted research and proposed a new packaging design that could help reduce post-harvest losses in tomatoes. The team explored several materials, including wood and plastic, before ultimately settling on the use of Wooden Plastic Composite (WPC) as the main material for their packaging design.
The team's sustainable packaging design integrates removable plastic sheets to be used as inserts in the proper arrangement of produce. Unlike the locally made weight crates, which can surpass 25kg when fully packed, the team's packaging design is stacked in batches depending on the order and does not exceed 25kg when fully packed. This design reduces the risk of developing musculoskeletal disorders and makes transportation safer for carriers.
The students faced a panel of judges on the 4th of July, 2022 and presented their research findings to the admiration of their audiences. Eventually, Kwame Nkrumah University of Science and Technology (KNUST) were adjudged the Winners of the 2022 Research and Innovation Challenge. This was followed by Academic City University College, University of Ghana, and Ashesi University.
Special Thanks goes to the organizers, partners, sponsors, facilitators and most especially our KNUST mentors; Dr. Adam Rahman (HoD, DeCoDe/Packaging Expert), Prof. Kojo Agyapong Afrifa (HoD, Wood Science and Technology, KNUST), Dr. Kwadwo Boakye Boadu, (Senior Lecturer, Wood Science and Technology, KNUST), Divina Allotey (Senior Technician, Department of Horticulture Lab) and Samuel Twum Adjei (Graduate Assistant, MPhil Fruit Crops Production).