Students from DeCoDe participate in the Design Thinking in Afrika Virtual Workshop 2022
Wed 3 Aug 2022 Matthew Kwame Eshun, Communication Design, KNUST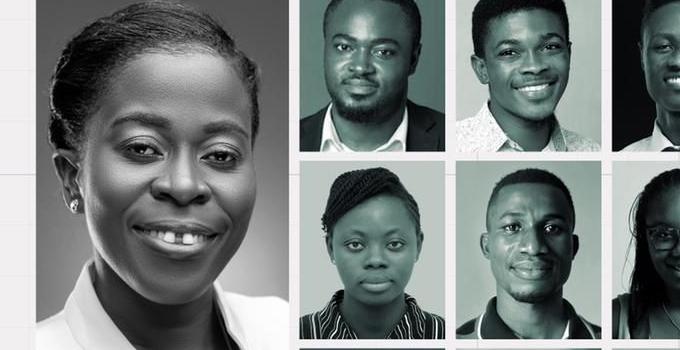 Nine (9) students from the Department of Communication, KNUST – the premium university took part in a Design Thinking in Afrika two-week virtual workshop on Monday July 4, 2022. It was a multi-day team-based Design Thinking online course aimed at affording the university student 21st century skills desperately required for dealing with topical wicked problems and affording them an opportunity to experience some of the key principles, attributes and practices in design-inclined and human-centered innovation. 
Design Thinking in Afrika is an agenda masterminded by the HPI d-school at University of Cape Town, South Africa to feed COP24 with practically-feasible ideas to solve the world's pressing challenges by leveraging design thinking as an interlinkage between human-centered solutions and problems confronting the world. The programme rides on these core objectives of equipping students with skills for the future, as they prepare to enter the working world, by mastering the four Cs (Critical thinking, Creativity, Communication, and Collaboration), give them an introductory experience to working in diverse, multi-disciplinary teams, help them discover digital learning tools and build creative confidence which are pre-requisites for the new working terrain of the 21st century.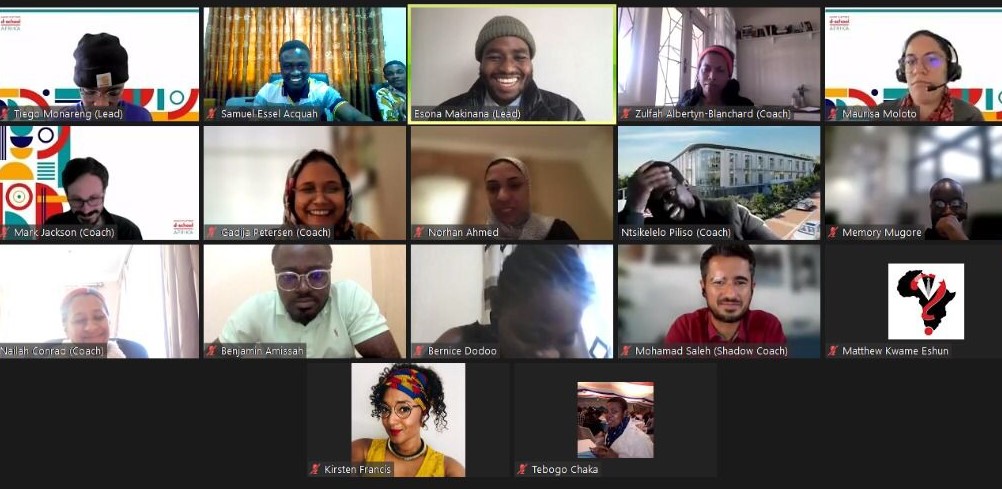 DT in Afrika is a collaborative programme that was first run in 2021 with the vision to make Design Thinking accessible to all African countries. Per eligibility criteria, the department nominated a mixture of continuing students and alumni under the auspices of the HoD Rev. Dr. Martin Adi-Dako and Dr. Ralitsa D. Debrah who played a supervisory role for the workshop on behalf of KNUST. Following thorough engagements and assessment, Robert Kossi Ameto, Samuel Essel Acquah, Matthew Kwame Eshun, Bernice Dodoo, Benjamin Ebo Amissah, Isaac Kwaku Duah, Stephen Asante Gyan and Afua Kyerew Frimpong, and Beatrice Birago Yeboah appeared capable enough to represent the department of communication design and KNUST at large in the DT in Afrika Virtual Workshop 2022. 
Partnering institutions included HPI d-school at University of Cape Town, South Africa, Kwame Nkrumah University of Science and Technology, Ghana, American University in Cairo, Egypt, Ashesi University, Ghana and University of Nairobi, Kenya. Students from these institutions were brought together unto a virtual platform to engage in collaborative thinking through a plethora of carefully-crafted design thinking activities and exercises which provided fertile grounds for cultivating practically feasible ideas. 
The Challenge Statement for the Design Thinking in Afrika Program was "How might we create new ways for underserved African communities to access clean energy, in a world where it has become more feasible for small-scale energy vendors to locally produce electricity, yet rural sectors still struggle with limited access?" By leveraging Design thinking through a virtual intellectual discourse on Zoom and an online whiteboard collaborative tool called Miro, the teams were able to generate mind-blowing user-focused ideas for addressing the challenge. 
Prominent amongst innovative ideas that manifested on the final presentation day emanated from a KNUST-student-dominated team, the only team with three students from the same university.
Their innovation was a brilliant electricity alternative for an undeserved rural community which yielded a lot of positive feedback from experts in the fields of energy who made inputs on people's ideas during the final presentation. Not only did the innovation address limited access to electricity by the local folks, but also provided a recreational and entertainment avenue for the users and helped them have access to constant water supply for domestic and agricultural use – a multi-purpose solution.  
Regardless the difference in cultural and geographical background of participants, the design thinking exercise established a platform upon which team members came to a common ground to make way for diversity of thought as they built on ideas of others to make them fruitful and feasible solutions. The workshop was climaxed on July 14, 2022 at 2pm GMT.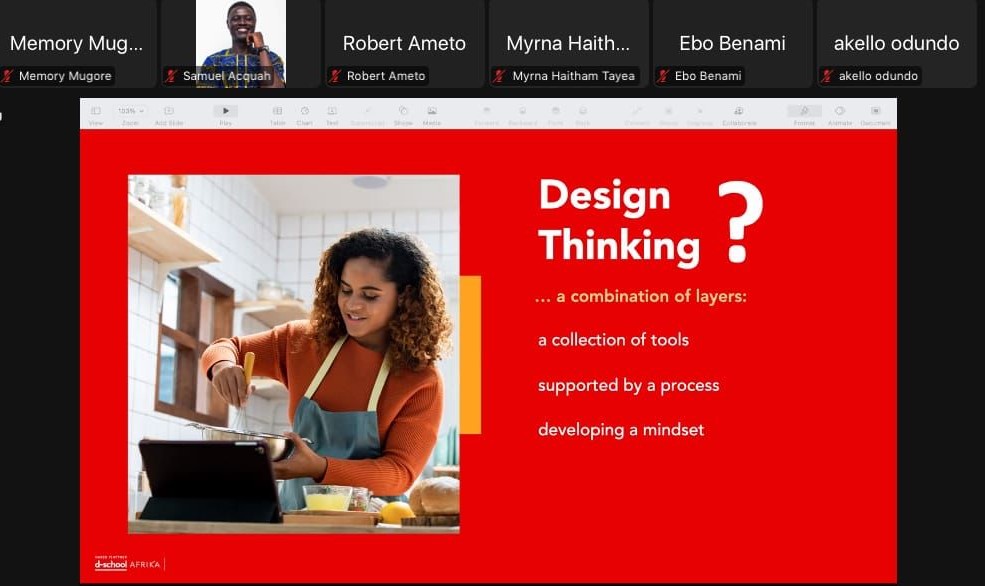 In his final remarks, Tiego Monareng, one of the leads urged all participants to capitalize on the knowledge and experience they gleaned from the DT in Afrika workshop for future research studies, administrative functions that would require collaborative thinking and most importantly solve topical global issues that are proven to be wicked in nature. 
Story by: Matthew Kwame Eshun, Communication Design, KNUST